I experienced a brief moment of panic when I took my first bite of beef tartare at Pomet, the anticipated new "neighborhood restaurant" on Oakland's Piedmont Avenue.
The flavor of the cubed beef — soy sauce, sesame oil — made me think of ahi tuna poke. Then I looked down and saw what appeared to be chopped onions. Wait a minute, I thought. Just what the heck am I eating here?
It was, in fact, beef tartare — Stemple Creek Ranch beef, to be exact. And it turned out that the "onions" were actually diced and julienned Niitaka Asian pears sourced from owner Aomboon Deasy's family farm, K and J Orchards. Buttery pine nuts had been swapped for poke's standard macadamia, while boiled egg yolk had been shaved on top (rather than mixed in raw to bind the meat as is common in tartare).
Then there were the thin slabs of buckwheat-nori cracker angled dramatically out of the dish like pieces of slate. This was not, I realized, going to be the dining experience I expected.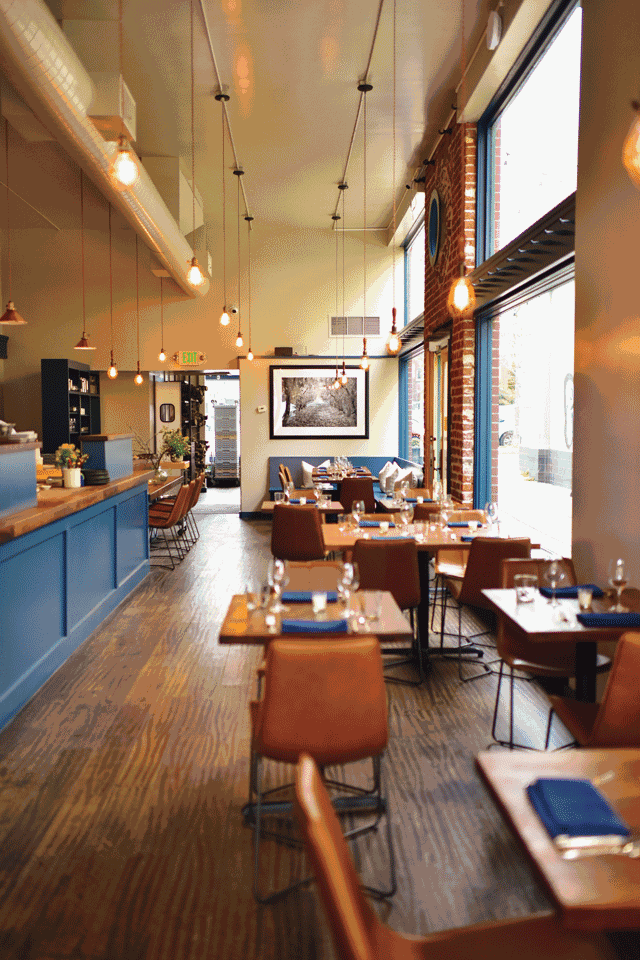 The plan, at least according to the prelaunch press I'd been sent, was to offer a "neighborhood-friendly menu of seasonal California-inspired dishes" that orbits around products from K and J and other independent local farms and ranches. Given that origin story, I expected something akin to Chez Panisse lite — simple, ingredient-driven Cal-French-Italian standards. The reality is far more nuanced and interesting, a culinary curveball called by Deasy when she decided to bring in Alan Hsu as executive chef. The Oakland-raised Taiwanese American brings a pronounced Asian tilt to the menu, which is dotted with ingredients like gochujang, nori, and Shaoxing rice wine. (Deasy's mother, K and J cofounder Kalayada Ammatya, was born and raised in Thailand.) Even more noticeable is Hsu's pedigreed background at places like San Francisco's three-Michelin-starred Benu and the two-Michelin-starred Blue Hill at Stone Barns in New York. Those are two of the most acclaimed and gastronomically experimental restaurants in the country, and that thoughtfulness, creativity, and complexity permeate the menu. Pomet, in other words, carries ambitions well beyond a typical neighborhood restaurant.
Depending on your expectations — a casual, affordable night out versus something more experiential and spendy — that can be exhilarating or frustrating. I fell mostly in the former category (though can sympathize with the latter). The roasted Star Route carrots are a must-try among the starters, particularly if you have a sweet tooth. The kitchen leaned into the wood oven – roasted root veggie's natural sweetness by layering in a drizzle of honey and remarkably juicy, nearly candy-like roast dates. It's a wonderfully decadent, fragrant dish that whisked me back to a (prekids) vacation in Morocco years ago. The scallion and sesame seed roll doesn't sound like much, but exhibits an impossibly light, pillowy crumb with just a hint of mochi-like chewiness. Each bite was permeated with a scallion essence that reminded my wife of her childhood and the scallion pancakes she adored growing up in the avenues of San Francisco. This really is food that takes you places.
On the frustrating end was the charred Brokaw avocado. A lightly seared varietal sourced from boutique avocado farmer Brokaw Ranch was joined by chilled trout, cuts of orange, and a dusting of nori flakes and salmon roe. Unfortunately, the citrus overpowered the avocado's delicate, nutty creaminess. More glaring was the portion size: Arranged in a quarter moon that left three-fourths of the plate empty, the dish felt meager for the $ 18 price tag. The cured Bodega rockfish is available at a more palatable $ 10. However, the thin sashimi-style cut of translucent flesh, decorated with lime, ribbons of fermented radish, sliced ​​chili pepper, and three tiny sprouts of lemon verbena, comes off as overly precious. On the other hand, the fried Zuckerman Family Farms potatoes are unreservedly awesome, deep-fried crispy to the edge of burnt on the outside, mashed potato – level creamy on the inside, and served with an excellent homemade ranch dressing speckled with herbs.
If there's one area in which Pomet excels it's the pastas — perhaps because Hsu can go wild creatively while leaning on the dish's inherent heartiness. The Ugly Mushroom Filled Pasta arrives stuffed with a subtle honeynut squash miso that's bathed with butter and bulked up by earthy sautéed mushrooms and crispy fried miso on top.
My favorite dish on the menu, however, is the lamb neck noodles. Effortlessly blending Eastern and Western elements, the dish features thick, chewy noodles nested around uber-rich pieces of lamb neck marinated Chinese stir-fry – style in tangy rice wine to velvety, pull-apart tenderness. Gently sautéed bitter greens and a top layer of shaved parmesan complete what may be Pomet's first signature dish.
In the mains section, the short rib featured aged Stemple Ranch beef that is cooked and sliced ​​like a typical filet but then served beside the gelatinous tendon, cooked down to chewy succulence, that connected it to the bone — which itself is presented on the plate as if to remind diners where the meat came from. This "deconstructed" short rib is served with slow-roasted broccolini on a bed of koji-fermented rice (mimicking potato puree) with a streak of chili oil. It's a firecracker of a dish that's executed flawlessly. It's also the kind of highly cerebral presentation that you might expect in a Michelin-starred restaurant — and at $ 45 feels steep for just four to five slices of beef, despite the culinary theatrics surrounding it.
For alternative mains, the generous black cod is more traditional, smoked to perfect buttery moistness with a delicious syrupy Japanese-inspired glaze and served over a light sunchoke puree with juicy roasted sections of that same sunchoke. Ironically, the undercooked turnips were the least impressive aspect of the coal-roasted turnip entrée, which otherwise beautifully mixed intricately prepared and flavor-packed veggies — shaved asparagus, fava beans, mushrooms, chives — atop toasty rice porridge.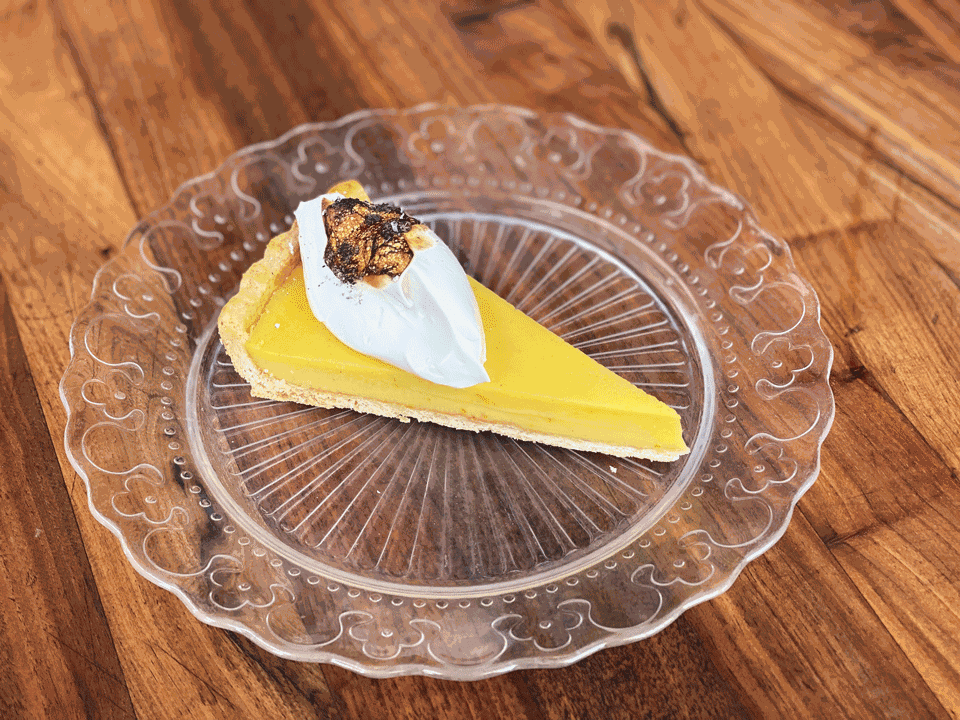 For dessert, I'd recommend the Shinko Snow featuring Hawaiian-style shaved ice infused with the Asian pear's sweet tropical flavor and accented by flakes of the sharply distinctive Japanese herb shiso. It's a lovely, simple, refreshing preparation that comes as somewhat of a relief after the intense fare that came before. Don't say we didn't warn you. pomet-oakland.com.