Over two days of festivities, Rice's 109th commencement celebrated a resilient class of undergraduate and graduate students, most of whom spent the majority of their Rice careers under the specter of COVID-19. The final May 7 ceremony marked the first universitywide commencement in three years.
Held for the second consecutive year at Rice Stadium, this year's commencement festivities didn't just mark scores of graduating students saying their goodbyes to Rice. This was also the final commencement for Rice President David Leebron, who steps down from his post June 30 after a groundbreaking 18-year tenure leading the university alongside wife and University Representative Y. Ping Sun.
In tents across campus the afternoon before undergraduate convocation, academic departments and programs hosted various receptions for graduates and their families. Finger sandwiches and refreshments greeted engineering and computer science partygoers inside Duncan Hall, while more food and music awaited Archis in the Anderson Hall courtyard. Doctoral hoods were donned and other advanced degree recipients were recognized across campus Friday in the swath of ceremonies.
By 5 pm, the academic quad was filled with seniors in full regalia, lined up behind the banners of their residential colleges for the long-awaited march through the Sallyport – a decadeslong tradition marking their unofficial graduation. Four years ago, their O-Week brothers and sisters welcomed them to campus with raucous cheers under a sky filled with fireworks, marching into campus as new freshmen. Today, their friends and families waited in Founders Court on the other side of the Sallyport to greet the students as they made their ceremonial departure from Rice.
The sun began to set as the colleges made their way to the James Turrell "Twilight Epiphany" Skyspace, regrouping before their final march into the Rice Stadium. Some took the chance to pose for a last round of pictures with their friends, some of whom had returned to finally graduate after COVID-19 disrupted their chance in 2020.
Ariana Engels '20 was among the alumni whose own graduation went entirely virtual in response to the pandemic. The former Student Association president was mostly content with this online ceremony until a text from her old Lovett College coordinator, Sharon O'Leary, persuaded her to return this year.
"It's my last chance to walk the stage with my friends, and the last time Leebron will be president," said Engels, who now works as an associate at EY-Parthenon .. "How could I not come back? Rice was such an important place to me. "
Across the lawn, Wiess College was lining up as siblings Chance and Channing Allshouse were preparing to go their separate ways after a lifetime spent together at Rice. The children of Rice institution Bucky Allshouse '71, a 1990 Rice Athletic Hall of Fame inductee and 33-year Board of Trustees member, the Allshouse twins practically grew up on campus.
"I always like to say I've attended every single Rice baseball game since I was born," said Chance, who graduated with a degree in sport management. "It hasn't sunk in yet that we're leaving."
Sister Channing, who earned her degree in political science, is headed to law school to follow in the footsteps of her father. "I've even got the Rice ring to match his now," she said. "It means so much to finally be a Rice alum."
The undergraduates along with their families and well-wishers eventually arrived at Rice Stadium for the undergraduate convocation, during which each graduating student was individually recognized by their residential college magister before sharing a handshake with Leebron.
Krithika Shamanna, a Jones College senior from Austin, Texas, who majored in political science and the study of women, gender and sexuality, was selected by her peers to address the crowd Friday night. Shamanna described how witnessing her fellow Owls' commitment to one another throughout the pandemic taught her the true meaning of dedication.
"With the onset of the global pandemic, many of us – professors, staff, students – felt our whole lives shaken," Shamanna said. "Still, even amongst the uncertainty, you all kept the vibrant and caring culture of Rice alive, whether through long-distance check-in phone calls that drew us out of feelings of loneliness, patience and understanding in group work, mentorship of underclassmen, or even lively waves across campus.
"The harsh realities of the world made it difficult to find any motivation, and yet, as a testament to your resiliency, you all not only found it, but used it to remain dedicated to kindness and supporting one another. In fact, nothing defines the Rice community more than the idea of ​​showing up for each other, "Shamanna said.
Leebron echoed Shamanna's sentiment in his remarks Friday.
"Our succinct statement of values ​​is responsibility, integrity, community and excellence. We have seen those values ​​lived, especially responsibility and community, over the past two years, "Leebron said. "We have come out of this pandemic more successfully than most universities, and we owe that in very large part to all of you."
He then addressed not only the Class of 2022, but all of the more than 15,000 students who graduated from Rice during his 18 years leading the university.
"It has been one of the true privileges of my job to see your extraordinary talent, passion, and compassion. To see your drive to make a real contribution to the world. To see your commitment to making Rice better, even when that meant criticizing the Rice that you found. And at the same time, to see your loyal identification as Rice students and your joy and appreciation of being part of this great community, "Leebron said.
As Saturday's universitywide commencement ceremony kicked off, attendees heard from Mario Escobar, an El Salvadoran Rice doctoral student studying biochemistry and cell biology who served as president of the Graduate Student Association from 2021-2022.
"There is a Spanish proverb that says 'cada martes tiene su domingo.' This translates to 'every Tuesday has its Sunday,' or 'every hard time has its ending,' "Escobar said. "I haven't done the math, but I feel like last year had a little bit more Tuesdays than normal," he quipped, before recalling how he and his fellow Owls banded together to overcome every obstacle thrown their way during these difficult years.
"The future is uncertain. Tomorrow could be a normal day, or it could be the worst day ever. But regardless of what it ends up being, you will overcome it and have a chance to move onwards, "Escobar said. "So face this new world with all your strengths. And regardless of what happens at the end, remember, it's almost Sunday. "
The crowd assembled at Rice Stadium Saturday was also treated to a powerful commencement address from award-winning journalist Sonia Nazario, "whose stories have tackled some of this country's most intractable problems – hunger, drug addiction, immigration" Leebron said.
Nazario is best known for "Enrique's Journey," her newspaper series for the Los Angeles Times about a five-year-old Honduran boy's struggle to reunite with his mother in the United States. Nazario won the Pulitzer Prize for feature writing in 2003 for those stories, which were later adapted into a bestselling book. She now contributes to the New York Times as an opinion writer and is a member of the board of Kids In Need of Defense, a nonprofit that provides immigrant children seeking asylum in the United States with pro bono legal services.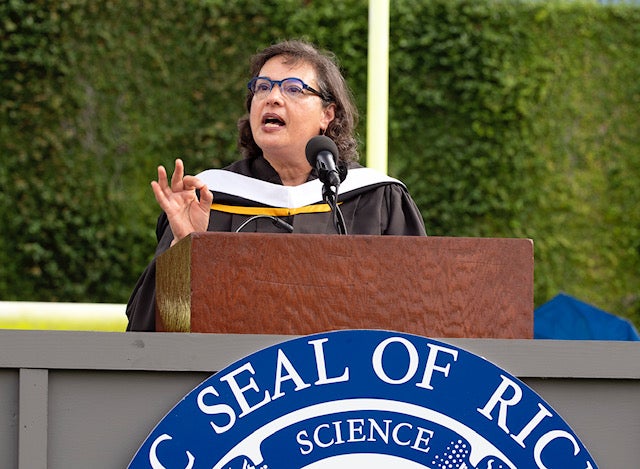 The journalist challenged the soon-to-be graduates with a rallying cry: "Fight for something that goes beyond your immediate self-interest. Something that pisses you off, that you feel must change. Work in some way – big or small, within your profession or outside of it – to do something about it. "
Nazario recounted a three-month reporting journey when she rode on top of freight trains from Central America through Mexico with children making the treacherous trip to the US She described in moving terms how residents of Veracruz, Mexico, ran alongside the passing trains to help the migrating children however they could.
"They lived in these little wood shacks. They made a dollar a day. They could barely feed their own children. But when they heard that train whistle, they ran out of their humble huts with bundles of food in their arms, "Nazario said. "They would wave and smile and shout. They threw bread, tortillas, whatever fruit was in season. … No food? They gave tap water. No water? They lined up with their hands in prayer as that train passed by. "
One woman Nazario met in Veracruz, Maria, "who was well into her hundreds," made a special impression. "Maria told me, 'If I have one tortilla, I will give half away. I know God will bring me more. ' The food throwers showed me that day I had a choice. I can react to people, strangers in need before me, with fear, even hatred. Or I could choose to live with an open heart. "
"As you leave here today, that awesome diploma in hand, I hope you ask yourself what would you like to see change? Gets your blood boiling? How can the skills and critical thinking you gained at Rice help you figure this out? " Nazario said. "Gen Z is 'the cause generation,' so you've got this, right?
"Go to a school, a prison, an animal shelter, a voting booth, a homeless shelter," she continued. "If those poor people in Mexico can do it, I know you can find half a tortilla and give it away."
Addressing the commencement crowd one final time Saturday, Leebron reiterated his gratitude for each and every member of the Rice community. He lauded their contributions to making the university such a warm and welcoming institution for the nearly two decades since he and his family left their lives in New York City behind, heading to the humid Gulf Coast for a new adventure.
"To our extraordinary students, graduate and undergraduate: Thank you," Leebron said. "You have been a constant inspiration during these years. I ask only that you never underestimate what you can achieve. "
He extended his thanks "to our remarkable faculty, for showing us constantly that the world can indeed be changed through advancement of learning and of knowledge, and to our dedicated staff, who make possible everything that we do as both students and faculty."
"Ping and I thank all of you from the bottom of our hearts for these last remarkable 18 years. Thank you, "Leebron said, visibly overcome with emotion.
The festivities were two days of joyful tears, jubilation and exultation from students who never could have predicted the global pandemic that made their years at Rice so uniquely challenging.
But one indelible moment in particular stands out. After hundreds of graduating seniors were recognized by Leebron Friday night, only one student remained: Mei Leebron, the outgoing president's daughter, the proud Duncan College member and Visual and Dramatic Arts major who grew up inside the hedges before attending the school her parents have served for most of her life.
The Leebrons wrapped their arms around each other, sharing a few private words as the crowd applauded. The fireworks show that followed was a thrilling sendoff. But more stirring than the pyrotechnics was the sight of Rice's president and one special student, a father and daughter in loving embrace before a crowd of graduates ready to inherit the world.