Spend any time in Germany or New York City, and odds are you'll have an opportunity to discover the joys of eating a soft, warm knot-shaped pretzel, studded with crunchy bits of salt. But who says that lovely experience has to be limited to those places or that pretzels must be only one shape?
Definitely not chef Stephen Bukoff, executive chef of The Langham, Boston, who offers his own take here on the delicious baked treat. Cart not included.
Pretzel Rolls
2 1/4 tsp active dry yeast
1/3 cup milk, room temperature
7 Tbsp dark brown sugar
1 stick (4 oz) unsalted butter, softened
6 cups all-purpose flour
2 cups water
1 gallon water
1 cup baking soda
Line two 12-by-16-inch rimmed baking pans with parchment paper and set aside. Add yeast, milk, dark brown sugar, butter, flour and 2 cups of water to the bowl of a standing mixer. Using the hook attachment, mix on low speed until dough comes together.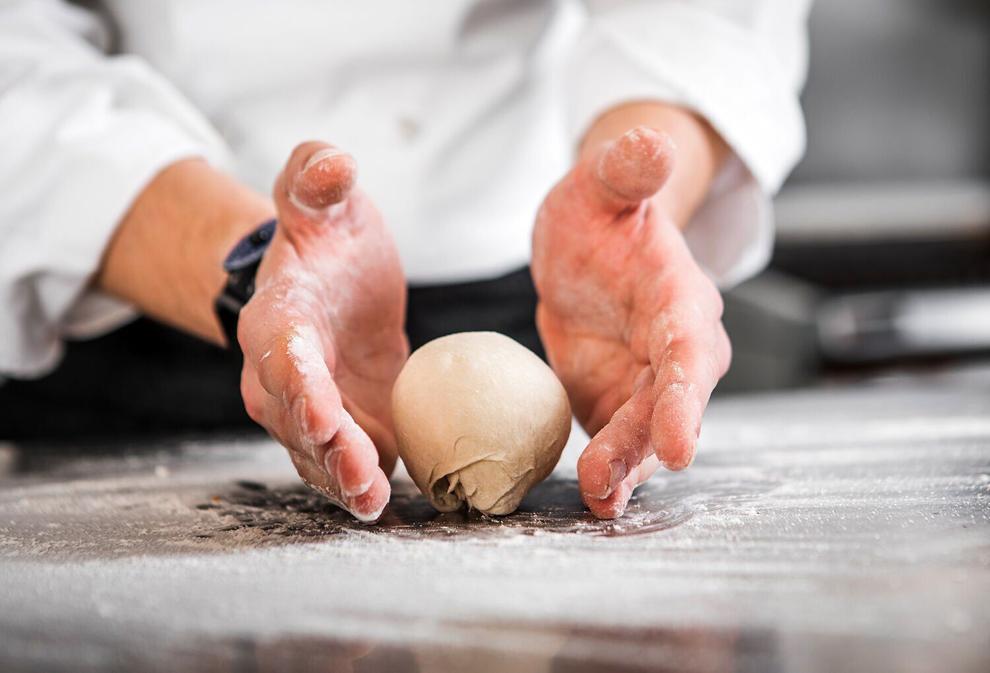 Turn dough out onto a floured board and divide into 10 pieces of approximately 6 ounces each (roughly baseball-sized). Roll each piece into a ball shape, making sure that the dough does not rest at room temperature longer than 10 minutes. Place five rolls on each baking pan and transfer to the refrigerator.
Preheat oven to 400 ° F. Spray a 15-by-21-inch rimmed baking pan (or two 12-by-16-inch rimmed baking pans) with cooking spray and place near the stovetop. In an 8-quart pot on the stovetop, combine the gallon of water and baking soda and bring the mixture to a boil. Remove pans with pretzel dough from refrigerator and place them on a workspace near the stovetop. Lower three to four rolls, one at a time, into the boiling water, making sure to keep the water at a steady boil. Boil each side for 30 seconds, using a slotted spoon to turn the rolls. When rolls are cooked on both sides, remove them from the water, placing them several inches apart onto the greased rimmed baking pan.
Sprinkle each roll generously with sea salt. Repeat in batches with the remaining dough rolls. (If using two smaller pans, divide the rolls between them.) Bake rolls on the center rack for about 15 minutes. Rolls should be dark-brown in color and springy to the touch. Leave rolls on the baking pan until cool enough to handle, then transfer to a wire rack. Serve warm or at room temperature.