Fermented food kimchia treasure trove of lactic acid bacteria = Kimchi is a food with a recipe in which cabbage and radish are salted and then seasoned, but it does not end there.
In fact, it starts here.
From now on, kimchi can only be called fermented and aged. In this process, the fermentation of lactic acid bacteria occurs, the growth of harmful microorganisms is suppressed, and good substances that preserve the flavor and aroma of kimchi are produced.
Korean kimchi is the world's best food with the only live lactic acid bacteria in the world.
Even after fully ripening, some microorganisms continue to produce acid, causing the tissue of kimchi to become soft and change its composition, resulting in over-ripe conditions. Kimchi, also known as a global health food and longevity food, has the power of aging and fermentation.
Kimchi has three health factors: green-yellow vegetables, spices, and lactic acid bacteria. Korea is the homeland of kimchi and is the most famous kimchi in the world. The kimchi brand that is unparalleled in Korea is "Jonggajip".
Jonggajip Kimchi has a global patent for Kimchi Lactobacillus and is the No. 1 brand of Kimchi in the world.
Jonggajip Kimchi is being supplied exclusively through the Korean grocery store "familyk.ae" of "Al Shams Al Safra", a general trading company located in Dubai, UAE in 2022.
Family Mart (familyk.ae) is the most active Korean grocery store in Dubai and is a famous Korean grocery store that supplies Korean food to over 500 locations in the Middle East and Africa.
In the United Arab Emirates, we are operating an offline store in Dubai and an online store that can deliver nationwide.
The flagship product of Family Mart (familyk.ae) is also Jonggajip Kimchi.
The 7 effects of kimchi = The main ingredients used in kimchi, namely Chinese cabbage and radish, are good food ingredients that each have various nutrients.
Experts say that the 'three well-being ingredients' of kimchi are (1) green and yellow vegetables such as Chinese cabbage, which are the main ingredients, (2) various spices, such as red pepper, which are auxiliary ingredients, and ( 3) fermented substances produced during the fermentation process of lactic acid bacteria.
As foods that help boost immunity are gaining popularity worldwide amid the coronavirus pandemic, a group of researchers said Wednesday that kimchi could alleviate Covid-19 symptoms. "Various nutrients contained in primary materials of kimchi, such as cabbage, red pepper and garlic, control the antioxidant system in the human body, blocking the nerve channels that perceive Covid-19 symptoms to alleviate them," the World Institute of Kimchi (WiKim ) said.
The institute conducted joint research with a French team led by Jean Bousquet, professor emeritus at the University of Montpellier.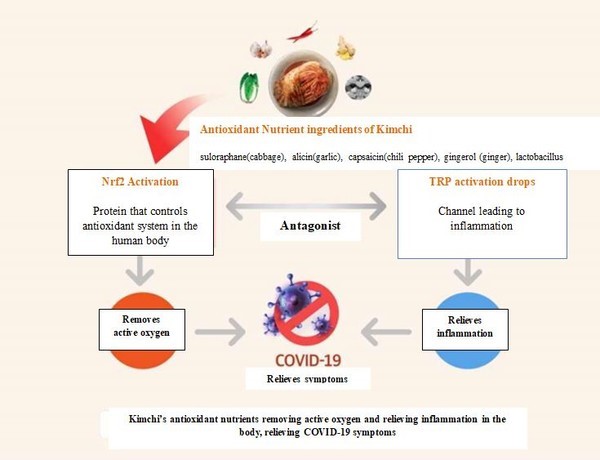 Here are 7 major effects of kimchi selected by analysis by kimchi experts in Korea.
1. Prevention of allergic diseases such as atopic dermatitis and dermatitis – In a study using the results of the National Health and Nutrition Examination Survey, the prevalence of asthma was reduced in those who consumed more than 40 g of kimchi per day compared to those who consumed less than 40 g of kimchi per day.
In an epidemiological study analyzing the relationship between kimchi consumption and atopic dermatitis in adults under 50 years of age, it was found that those who consumed 85 to 158 g of kimchi per day had a 0.68 times lower risk of atopic dermatitis compared to those who ate 0 to 36 g.
2. Anti-cancer effect – The reason kimchi is expected as an anti-cancer food is that cancer-preventing vegetables such as Chinese cabbage, radish, gat, garlic, and red pepper are the ingredients of kimchi. Among the cancer-fighting ingredients in kimchi, ingredients from Chinese cabbage such as indole-3-carbinol and isothiocyanate, allyl sulfide from garlic, and capsaicin from red pepper powder are cited.
The Rural Development Administration has published a study showing that the anticancer effect of kimchi increases when it is properly aged.
3. Promoting digestion – Kimchi is good for digestion and also acts as a bowel movement to clean the intestines.
Thanks to the lactic acid bacteria created during the fermentation process. Another study found that eating 300g of kimchi a day increases the number of lactic acid bacteria in the large intestine by 100 times.
In other words, the lactic acid bacteria in kimchi can pass through the stomach acid and reach the large intestine.

4. Obesity prevention – The appeal of kimchi is that it improves the taste but does not gain weight.
Kimchi has only 9 ~ 55kcal per 100g. In addition, the pungent taste of red pepper helps to decompose and burn fat.
The dietary fiber in kimchi makes you feel full quickly and promotes excretion.
5. Suppression of harmful bacteria – Kimchi is an antibacterial vegetable that kills harmful bacteria such as food poisoning bacteria.
This is because lactic acid bacteria inhibit the reproduction of harmful bacteria.
As kimchi is fermented, lactic acid bacteria proliferate to produce lactic acid, and the pH naturally lowers.
6. Prevention of anemia – As a result of ingesting 300 g of cabbage kimchi per day for an adult male for 4 weeks, blood iron concentration and ferritin levels, which help iron absorption, increased.
This suggests that kimchi may help prevent anemia caused by iron deficiency.
7. Prevention of vascular disease – As a result of ingesting lyophilized cabbage kimchi pills (30g) daily for 6 weeks in healthy adults, it was found that it lowered blood triglycerides and arteriosclerosis index and raised HDL cholesterol, which is good cholesterol for vascular health.
When blood vessels are clean, blood pressure is lowered and blood flow is improved, thereby preventing vascular diseases.
For more information please visit:
www.familyk.ae
Dubaitradeas.com
Media Contact
Company Name: Familymart Al Barsha
Contact Person: Media Relations
E-mail: Send Email
Address:Al khoory Hotel apartment building, Ground floor, SHOP # 1
City: Dubai
Country: United Arab Emirates
Website: http://familyk.ae/