Executive chef at Mississippi's Cedar Hill Farm Michael Stotler's favorite frittata (and go-to breakfast dish to prepare for a family or large group) combines the farm's fresh eggs with smoked Gouda cheese, crumbled applewood-smoked bacon and fresh chives for big, crowd-pleasing flavor. "The smokiness of the cheese and the saltiness from the bacon make a perfect pair," says Stotler.
Bacon and Smoked Gouda Frittata
6 strips of applewood-smoked, cured bacon
8 large eggs
1/2 cup heavy cream
1 cup shredded smoked Gouda cheese
4 Tbsp chopped fresh chives
1 tsp crushed red pepper flakes
1/2 small red onion, cut into 1/4-inch pieces (1/4 cup diced onion)
1 garlic clove, peeled and minced
Pinch each of salt and ground black pepper
Line a dinner plate with several layers of paper towels and place near the stovetop. Heat a 10-inch cast iron skillet over medium heat. Cook bacon strips for 2 to 3 minutes per side until crispy. Place cooked bacon on paper-towel-lined plate. Remove skillet from heat, leaving bacon fat in the pan to cool. When bacon strips have cooled enough to be handled, crumble them into pieces. You should have about 1/2 cup of crumbled bacon. Set aside for the frittata.
In a large mixing bowl, whisk together eggs and heavy cream. Stir in bacon, smoked Gouda, chives and red pepper flakes, until well combined.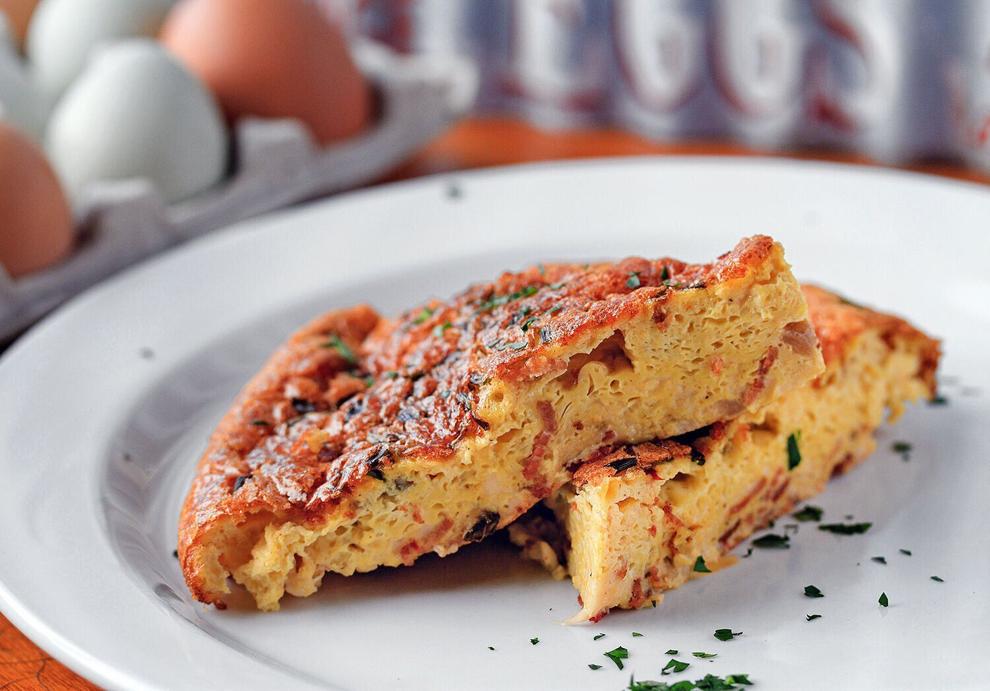 Pour half of the reserved bacon fat into in a heat-resistant container and set it aside. Heat bacon fat remaining in the skillet over medium heat. Add onion to the skillet and sauté for 3 to 4 minutes, until soft. Add garlic and cook for an additional minute. Remove skillet from the heat.
Add reserved bacon fat to the skillet and carefully swirl the pan to completely coat the sides with fat. Add egg mixture, stirring to combine with onion and garlic. Season with a pinch or two of salt and ground black pepper. Place skillet in the oven on the center rack and bake for 20 to 25 minutes, until frittata is set.
To serve, gently slide entire frittata onto a plate and slice or serve directly from the skillet.