Using the best in car wash technology to serve an eco-friendly, safe and enjoyable customer experience, Metro Express Car Wash opens Monday at 4041 E. Primrose Lane, just northwest of the Highway 41-Interstate 90 interchange, in Post Falls.
Choices include unlimited and retail car wash packages and free vacuums. Hours are 7 am to 8 pm Monday through Saturday and 8 am to 8 pm Sundays.
Teaming with Young Construction, the opening week will have free washes with encouraged donations to the Boys & Girls Club with public and Young donations of up to $ 5,000.
The company started in 1969 and has five outlets in the Northwest. Locally Jordan Kuhn is general manager and Chris Bauer is operations manager. Check metroexpresscarwash.com.
Memory Lane Gems moving to Silver Lake Mall
A huge sale will mark the closing of Memory Lane Gems in The Coeur d'Alene Resort Plaza Shops starting at 10 am on Thursday. The sale includes heirloom and fine jewelry, nostalgic gift items, rocks and minerals, vintage clothing and more.
Downsizing to jewelry and gems, owner Lynn Rinker is moving the store to Silver Lake Mall. The closing sale will be about six weeks. Check facebook.com/memorylanecda.
Manna opens on Sherman
A goldsmith and fine-jewelry designer, Whitney Shelhamer has opened Manna (a working studio and jewelry store) in the former Christmas At The Lake location at 510 E. Sherman Ave.
Manna refers to the Biblical "manna," which was food from heaven provided for the Israelites in the desert… tasting sweet, like honey. For Whitney and husband Zak Shelhamer, it's a place to gather and exude sweetness, warmth and respect with grace, provision and hospitality.
Hours are Wednesday through Sunday with more days coming later. Check themannashop.com.
Heart of Hope Health opens on Hayden's Hess
A direct primary care model of family practice, the new Heart of Hope Health has opened in Suite A at 8944 N. Hess St., in Hayden.
The five providers utilize a monthly membership program and fees rather than insurance or Medicare and have same-day appointments for immediate needs or sickness.
"Our desire is to allow patients to be in control of their own health care decisions," said Sonja Sisco, co-founder and ambassador. She is joined by Dr. Duke Johnson and Moriah Cason.
Hours are 8 am to 6 pm weekdays. Phone 208-500-0601. Check www.heartofhopehealth.com.
Now the Tidbits
Daylight Saving Time begins today.
Businesses to be in the new Lucille Building at 2605 N. Fourth St., are Northwest Construction Management, Refined Salon and Stylus Wine & Vinyl Bar.
The correct phone for Ultimate Concrete Coatings is 208-640-6768.
Post Falls RV Campground is under construction at 70 W. Cabelas Way between the Cabela's store and State Line Walmart in The Pointe at Post Falls.
Many of the 16 lots are available in the planned Prairie Crossing Shopping Center in the northeast corner of Highway 41 and Prairie Avenue.
A burger place and cosmetic salon will be in the new building at Fourth and Lakeside.
A new building for Etco Services is under construction off Huetter north of Seltice and I-90
The PACR office building is under construction at 1857 W. Hayden Ave.
Breaking Bread Bistro will be where Davis Donuts was at Fourth and Best.
Watch for a place called Pearl & Tin.
A sign on Wayne Drive in Hayden says "Future home of Blue Chip Chiropractic."
Open Arms Real Choices Clinic will move from 1800 Lincoln Way to 8056 N. Wayne Drive in Hayden.
Align Yoga Salon is now in Unit 102 of the new Lucille Building at 2605 N. Fourth St.
The Mill will be a four-story mixed-use building at Government Way and Mill Avenue with businesses on the ground level and 43 apartments above.
Consign Furniture has a "coming soon" sign southwest of the US 95-Lancaster Road intersection.
An Express Exterior Carwash is being built in the 3400 block of Seltice in Post Falls.
Major changes are coming to the Greenbriar Inn & 315 Cuisine under new ownership at 315 Wallace Ave.
The Rebel Junk Shoppe at 2424 N. Fourth St., will expand to a street-side location.
Cornerstone, a four-story commercial and residential building, is under construction in Riverstone.
Bruchi's quick service restaurant is planned for a new building north of the corner of Highway 41 and Mullan Avenue.
The former Ugly Fish restaurant building will be a Berkshire Hathaway Realty in Riverstone.
Watch for construction of Vantage Point Brewery across from Michael D's Eatery off Coeur d'Alene Lake Drive.
A Sweet Lou's restaurant and a Grease Monkey auto place will be at the Crossings in Athol.
CdA Kids Dental will be at 1341 N. Northwood Center Court.
TownePlace Suites by Marriott Hotel is being built where the Outback Steakhouse was in the southeast corner of I-90 and Northwest Boulevard.
Several steel storage buildings will be built at 3758 W. Hanley Ave., off Atlas Road, for Hern Ironworks.
A Capriotti's Sandwich Shop will come into the former Chipotle Mexican Grill building at 305 W. Appleway.
A Sarah Hamilton FACE place will be at 2120 Northwest Blvd.
A new commercial and residential building, Midtown Center, is being built at 821 N. Fourth St.
Watch for major changes with the Burger Bunker and Bunker Bar off Spokane Street in Post Falls.
Watch for a new Numerica complex at 1250 Ironwood.
The Stylus Wine & Vinyl Bar will be at 2605 N. Fourth St.
A large storage complex and new corporate office for Steel Structures of America is being built off Highway 41.
The Den will be a new tavern at 761 N. Idaho St., in Post Falls.
My Nails & Spa will be off Canfield Avenue.
The CD'A Corner Store is adding a kitchen and tables downtown.
Coeur d'Alene Nissan will have a major addition to its building off US 95.
Mountain Goat Lounge will open soon connected to the Moose Lounge downtown.
The Post Falls Pavillion food truck court will be near the Highway 41 and Horsehaven intersection.
"Same exact" is redundant. The "… ward" words don't end in "s."
Contact Nils Rosdahl at nrosdahl@cdapress.com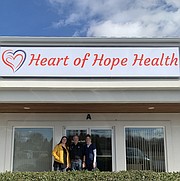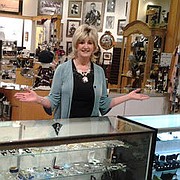 .